Search For Properties On Multiple Listing Sites
Pick and choose which sites to use to search for properties and which sites to exclude.
Customize Your Search Criteria
Search for properties by any combination of city, state, zip code, price ranges, bedrooms, bathrooms.
Automatic Property Analysis
Analyzes properties based on asking price, market values, rental incomes, and much more. BirdDogBot does the math so you don't have to!
Configure Your Own Custom "Deal Criteria"
BirdDogBot only returns properties that you want and ignores properties that you don't need to waste your time looking at.
Accurate Estimates From Trusted Online Sources
Automatically retrieves property market values/ARVs (after repair values) and rental income estimates from various trusted online sources.
Customize & Modify Your Own Estimates
Add your own expense, income, market value, estimates to your deals for more accurate projections.
Easy-To-Follow Deal Breakdown
All your facts and numbers are displayed on a single easy-to-read and easy-to-follow page customized for each property.
Organized Property Info
Have all the information about a property at your fingertips, including property details, listing status, property photos, realtor contact info, and lots more.
Detailed Property Listing Monitoring
Monitor and track listings over time – if the asking price, market value, rental income, or any other information BirdDogBot tracks ever changes, BirdDogBot let's you know exactly what changed and by exactly how much.
Keep Your Own Detailed Notes
Need to make a mental note about a property? No problem! BirdDogBot has a place for that with every property it analyzes for you. It even logs the date and time you made the note.
Visit The Area Without Leaving Home
Each property has a one-click link to Google, Bing, and Yahoo maps so you can use "street view" to virtually visit your properties.
Real Estate Heat Maps
Discover recent sales prices, property values, and even what part of town the money is starting to flow to using heat maps.
Due Diligence Assistance
Invest in the right city or part of town using links to external sites tailored for each property that will give you the demographics, crime rates, population growth and so much more.
Offer Strategy Game Plan
BirdDogBot suggests an "offer strategy" you could use when making offers on properties and the ROI you could expect to earn, should the offer be accepted.
Access Your Deal Data Anywhere
Access deals you found using BirdDogBot anywhere and on any device, including your smartphone!
Share Deals With Other Investors Or Money Partners
Send links to the deals in your private BirdDogBot back-office to other investors without having to give out your BirdDogBot password.
Secure Access To Your Private Deal Data
All your deals are kept confidential so any deals you find are NOT available to other BirdDogBot users.
Instantly Synchronized Data
Once you locate a deal using the BirdDogBot desktop software, it's automatically kept in synch with the web and mobile site.
Technical Support and Assistance
Need some help? We've got you covered. Our support team is here to answer any questions you may have about using the software
Online Video Tutorials
BirdDogBot is super-easy to use, but just in case you get stuck, there's a whole library of video tutorials to help you out, showing how each feature works.
Multiple Computer License
Want to install BirdDogBot on your home PC, office PC, and laptop? We're cool with that! You can install it on as many computers as you like!
New Features Added All The Time!
We keep adding more and more features to BirdDogBot and as it evolves, you'll always get FREE upgrades and instant access to the latest version.
Finds Real Estate Deals On Auto-Pilot
Analyzes Deals Like A Math Wizard
Monitors Deals With Insane Accuracy
Provides Due Diligence Assistance
Here's Our Promise To You...
Customer satisfaction is our number 1 priority. We want you to make the most of the features of BirdDogBot, so we'll always take the time to help you if you're struggling with anything.
If you find that it's not for you, you have a full 60 days to let us know and we'll happily refund every last penny. It's that simple!

So what are you waiting for? Take action now and get access to BirdDogBot
for the special low "First 250 Copies" price of only $47/month!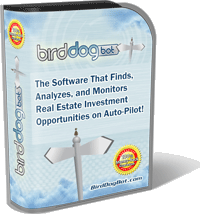 I understand that I get a full access to BirdDogBot today for only $47.
I also understand that I'll be billed a monthly subscription price of $47/month so long as I decide remain a member (and my price is guaranteed to never increase).
I can cancel my subscription at any time.
My investment is backed by your 60-day 100% money back guarantee.
Based On That, I'm Clicking
The "Add To Cart" Button Below!
(Here is what to expect after you click the "Add To Cart" button)
Fill in your details on Clickbank's 64 bit encrypted secure order form to complete your order.
You will then automatically be re-directed back to this site where you activate your BirdDogBot account and password.
Download and install BirdDogBot onto your Windows-based PC.
Refer to the video training on our members blog or immediately start finding real estate investment opportunities!
BirdDogBot is a Subscription-Based Windows Desktop Application
You must have an active BirdDogBot subscription in order to use the software. Your PC must be running Windows 8/7/Vista/XP with 1GB RAM, 5MB of free disk space, and have a high-speed internet connection. Please note that BirdDogBot will run on a Mac but you must use a Windows emulator like Parallels Desktop 7 for Mac.