I just released my first eBook called "How To Use FREE Websites & Tools To Find An Endless Supply Of SOLID Real Estate Investing Opportunities On Auto-Pilot" and it's yours free just for visiting this site.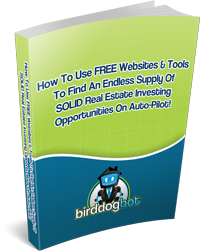 This eBook reveals all my secrets on how I find an endless supply of below market value properties with just the click of a few buttons. You'll also discover…
A Rapid Fire Mindset For Maximum Profit & Time Saving
How to "Crunch The Numbers" For Your Real Estate Deals
7 Critical Factors To Look For Before Choosing To Invest In A Market
How To Use "Heat Maps" To See Where The Money Is Flowing To Maximize Appreciation
How To "Virtually Visit" Your Property Without Leaving Home
Free Online Tools That Help You Estimate Market Values and Rental Incomes
…and LOTS more!!
Just enter your name and email below so I know where to send it and I'll have that off to you in just a few minutes.
I'd love to hear what you think about the book so post a comment below and let me know!